We all have that little voice in our head (well at least I do) that says "KILL PIKACHU!" This page is dedicated to that little voice...inside my head-and possibly yours.
-AntiPikaFreak
Well, this is the launch of this site so we'll see how well it does...... It's run by me, the AntiPikaFreak, and I have all sorts of stuff that is against Pukemon err, Pokemon, so enjoy!
THEME SONG :
I wanna eat very best
like no one ever has
to catch them is my real test
to eat them is my cause
I will travel across the land
searching far and wide
each Pokemon
for me to eat
with stuffing inside
Pokemon
gotta eat 'em all
It's you vs. me
I know it's my destiny
Pokemon
Oh, I'll eat you all
I'll cook you in your Pokeball
Pokemon
gotta eat 'em all
I'll get a Pikachu
I will eat you, yes it's true
I'll catch you
and I'll eat you
Po-ke-mon
Gotta eat 'em all
Gotta eat 'em all
Pokemon
Theme song written by the
AntiPikaFreak. Like it?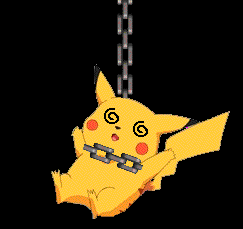 Disclaimer
- I guess I need one
Reasons
- Do you wonder how I could possibly hate Pokemon? Find out here.
Recipes
- Learn which Pokemon taste the best, and how to cook them.
The Game- Object of this game is to cook a very rare Pokemon.(not up yet!)
Polls
- Different questions every 2 weeks
Quiz
- Do you secretly like Pokemon? (Not up yet!)
How to tell you're obsessed
- as if you wouldn't know.
Ten steps to recovery
- Yes! The addiction can be stopped!
Message Board
Contact me!
- Do you have comments? Suggestions? Death threats? Send them here.